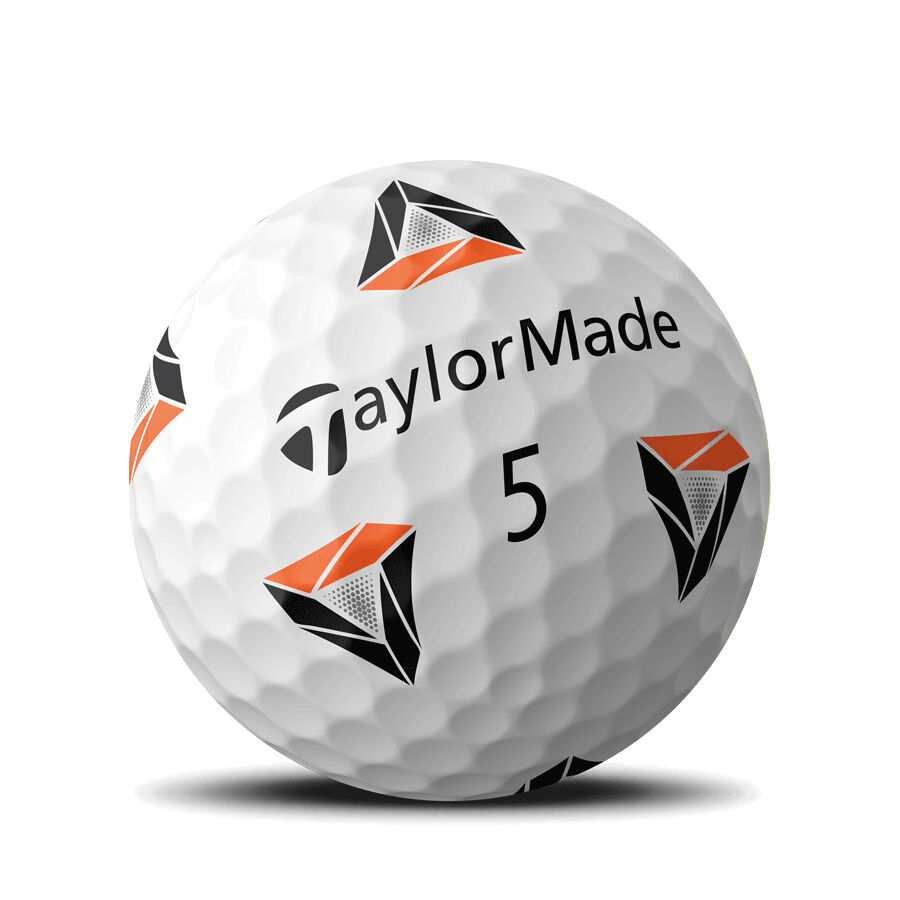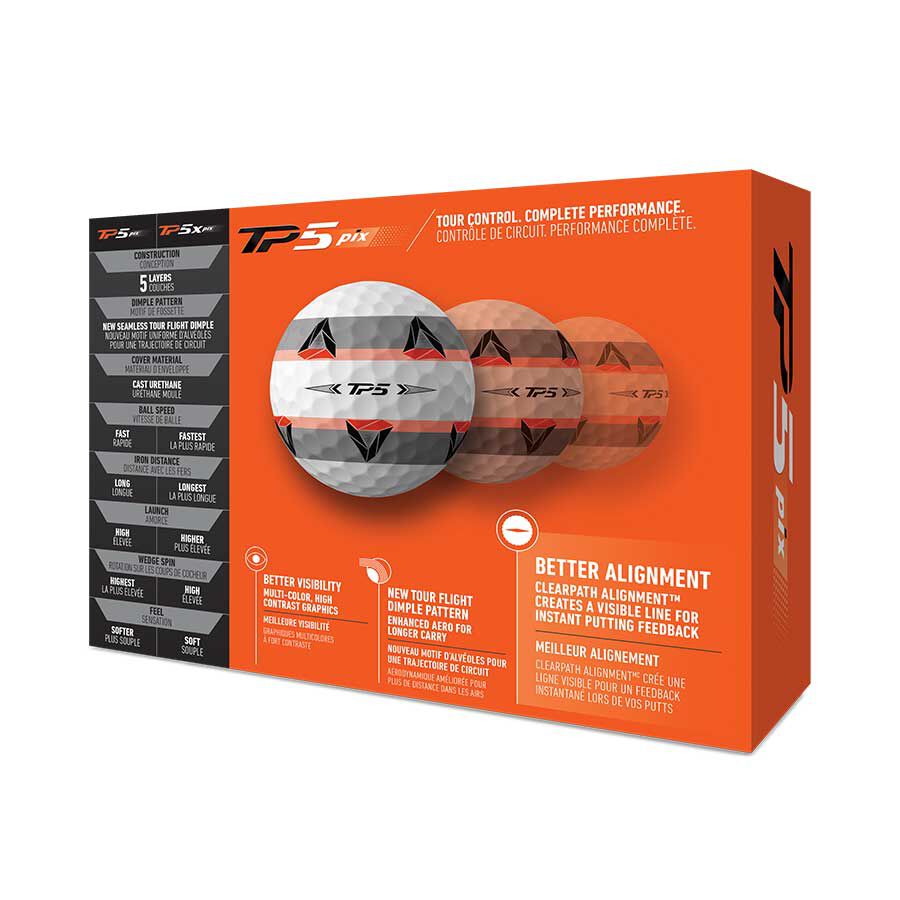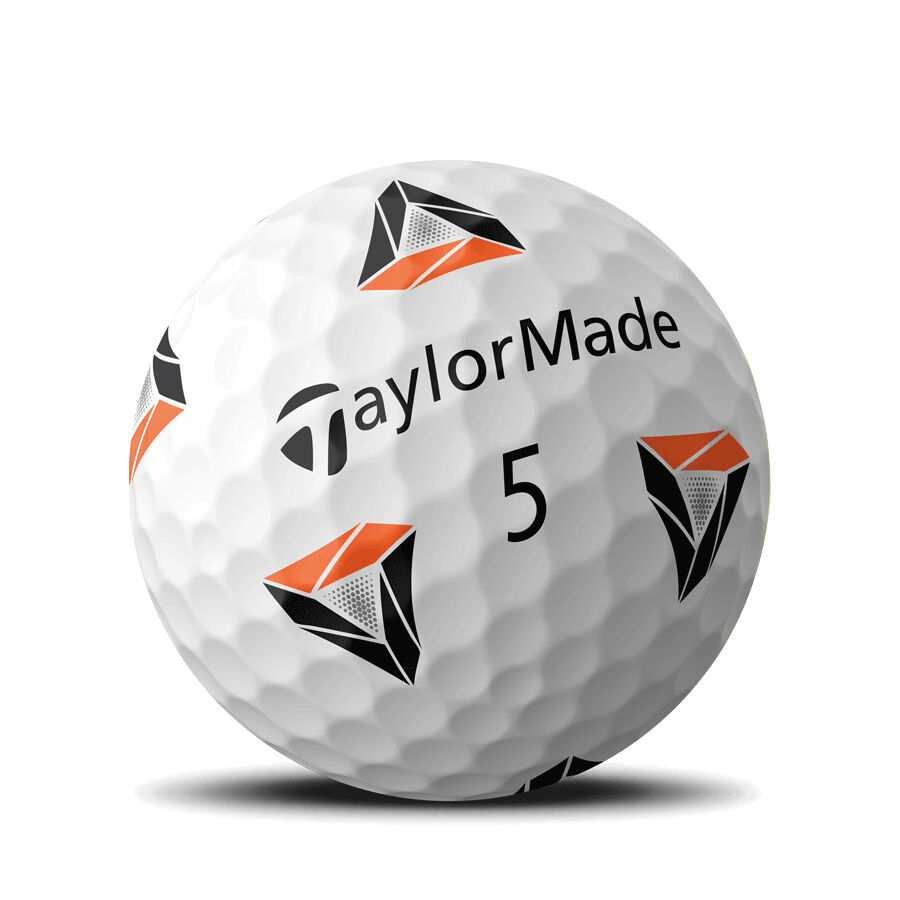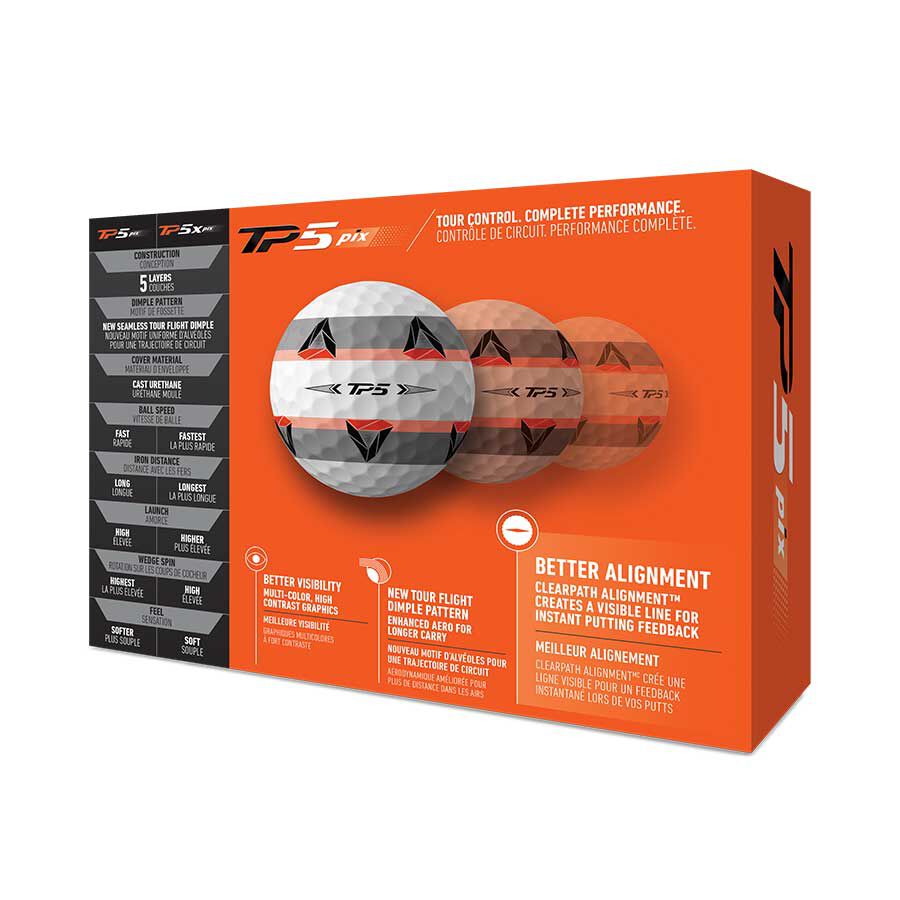 Purchase options
This product is not available in your country.
This item is currently not available
Tour Certified Visual Technology
From the unmatched style and performance of Rickie Fowler comes the Tour-validated performance of pix with ClearPath Alignment™.
TP5 pix Features:
Innovation You Can See
ClearPath Alignment™ is the most innovative visual technology in the game. Not only does it enhance visibility, but it also provides Tour-proven functionality to aid alignment on the green and help you gauge the quality of your putting stroke. The only way to see it is to play it.
Tour Inspiration
We teamed with Rickie Fowler to develop a ball that reflects his swagger and delivers the performance he demands. Inspired by the results, fellow OSU Cowboy Matthew Wolff made the switch to pix™ and never looked back.
Increased Carry with New Tour Flight Dimple Pattern
The new Tour Flight Dimple Pattern unlocks the next level of aerodynamics while promoting maximum carry distances and a steep angle of descent for extra stopping power, especially on long irons.
TP5 pix Technology:
ClearPath Alignment™
Strategically placed graphics frame the TaylorMade logo and TP5 side stamp to form ClearPath Alignment™, providing immediate feedback. This proven technology is designed to create a visible line once the ball is rolling, helping you gauge the quality of your putting stroke. It can also be a powerful practice tool that benefits face angle, alignment at address and roll consistency.
Multi-Color Pattern
The 12 evenly spaced multi-colored graphics form a pattern that makes pix™ easier to see in different light conditions while enhancing overall visibility and alignment.
Co-Developed with Rickie Fowler
A year-long collaboration with Rickie Fowler resulted in the creation of pix™. His vital feedback led to the development of ClearPath Alignment™ and the unique color pattern.
New Tour Flight Dimple Pattern
Our most aerodynamic dimple pattern ever produces explosive carry distances. This unique design features a 322-dimple pattern engineered to deliver improved aerodynamics. It features a shallow overall dimple to reduce drag during ascent, with steep walls to trap air during descent in order to maintain lift and keep the ball airborne for longer.
5-Layer Construction
The key to achieving enhanced speed without negatively affecting spin performance comes from TaylorMade's proprietary 5-layer ball construction. Including a larger and more reactive Tri-Fast Core that delivers maximum carry and low drag and a Dual-Spin Cover that features an ultra-soft, highly durable cast urethane cover, TP5 offers complete tee-to-green performance without sacrifice. The ultimate result is a ball that promotes a fast launch, maximum carry distances and a steep angle of descent for extra stopping power - especially on long irons.
Speed-Layer System
The Speed-Layer System is comprised of four increasingly stiff layers to produce more ball speed. The result is more carry distance off the tee, more control in the wind, and more spin around the greens.
High-Flex Material (HFM)
TP5 features a material called HFM (High-Flex Material), delivering higher ball speeds through a greater rebound effect. HFM acts like a tightly wound spring that builds energy and rebounds quickly, generating more ball speed.